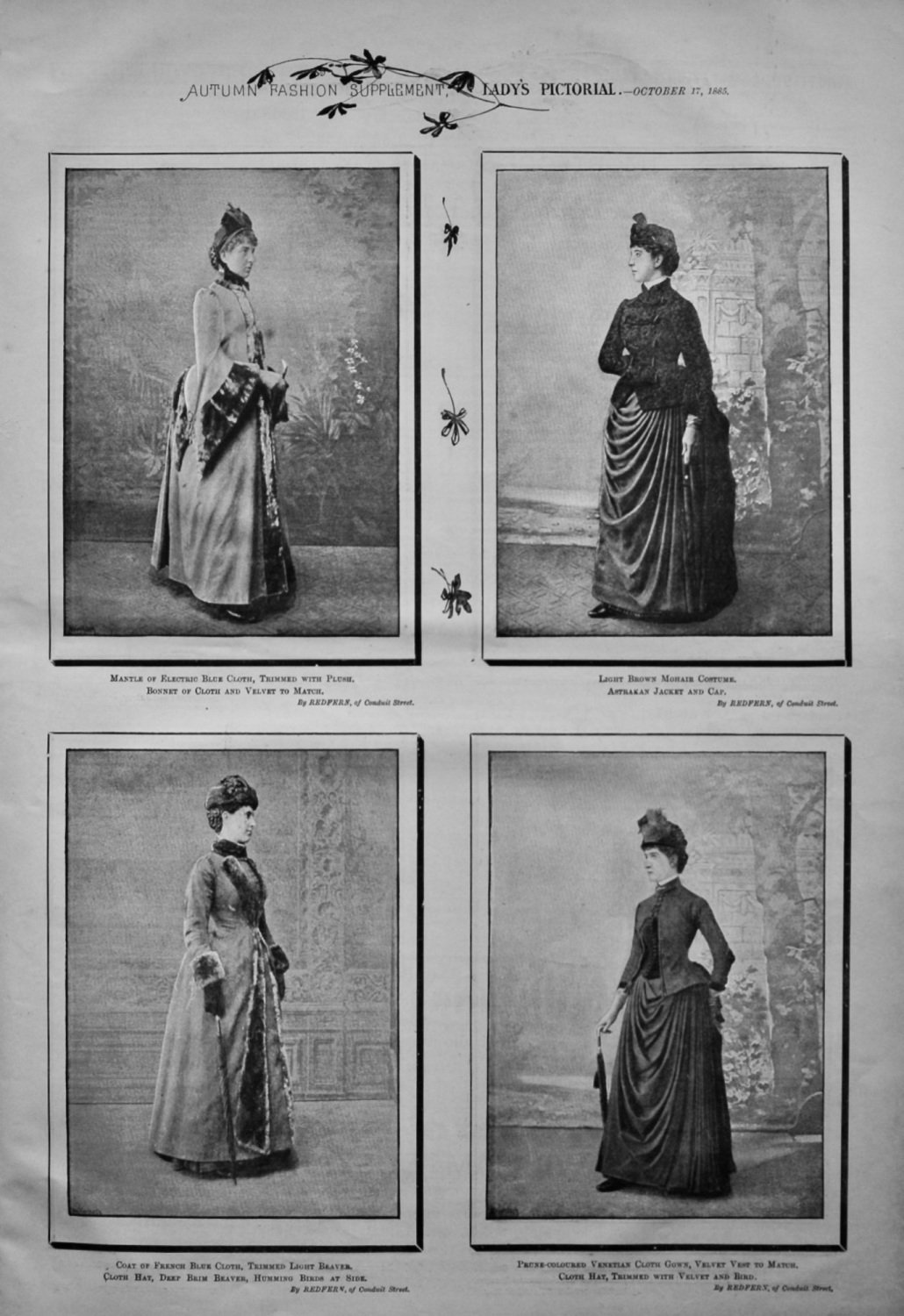 Autumn Fashion Supplement, Lady's Pictorial.- October 17, 1885.

Supplement.

£15.00
For Sale is a 6 Page, 12 Sided "Autumn Fashion Supplement, to the Ladies Pictorial.- October 17th, 1885." Showing the Following quarter page Photographs.

Redfern, of Conduit Street.
a- Mantle of Electric Blue Cloth, Trimmed with Plush. Bonnet of Cloth and Velvet to Match.
b- Light Brown Mohair Costume. Astrakan Jacket and Cap.
c- Coat of French Blue Cloth, Trimmed Light Beaver, Cloth Hat, Deep Brim Beaver, Humming birds at Side.
d- Prune-coloured Venetian Cloth Gown, Velvet Vest to Match. Cloth Hat, Trimmed with Velvet and Bird.

Howell and James, of Regent Street.
a- Dress in Etamine Doublee, Wide stripes of Plush, Alternately Moss Green and Havanna Brown.
b- Drapery caught up with Loops of Silk Cord and Chenille.
c- Tea Gown. Richest Faille Francaise Imprimee, Cream Ground, with Gorgeous Bouquet. Draped with Mauresque Lace and Cockades of many-coloured Ribbons.
d- Bonnet of Golden Otter Felt, with Plush Crown and Plume of Maize Ostrich Feathers.

J. White, of Regent Street.
a- "Morny" Gown, Composed of Floquinette in Mousse and Navy. Skirt with Wool Brandenbourgs, and Front of Bodice in Mousse Velvet.
b- "Galifet." In Materials-Fantaisie, Tabac Canvas with Cresson Velvet, Surat Chemisette Loose to Waist, finished with Belt. Buttons Louis XIII.
c- "Stephano" Mantle. Made from Indian Shawl, Embroidered Velvet Sleeves, Trimmed Skunk. Black Cloth Bonnet, folded Velvet Front, Seagull in Cluster of Ribbon Bows, Coloured Ribbon Strings.

S. Hannington and Sons, of Brighton.
a- Costume of Foule and Plush. Skirt of Plush, Long Draperies. Bodice of Foule with Plush Vest.
b- Visiting Costume in Peutre Faille and Plush. Zouave Bodice, Trimmed Beaver. Hat to Match.

Jay, of Regent Street.
a- Walking or Visiting Costume, Composed of Faille Francaise and Velvet ; Buyadere Fronts, Large Cord and Tassels arranged across.
b- Train Dinner Dress, Dahlia Lyons Velvet and Light Shade of Satin. Panels richly Embroidered with the various Shades and Beads to Match. Train of Velvet, with full Fold of Satin each side and Chantilly Lace falling over. Bodice to correspond.

Debenham and Freebody.
a- The Cloak of Striped Plush and Faille, Trimmed Feather Ruche and Passementerie Fringe. The Skirt made of Plush Brocade or Velvet, with side Drapery of Faille Francaise and Pendants.
b- Cloth Walking Costume, of a Polonaise Shape, with Fur and Garniture of Passementerie.
c- Carriage Wrap, of Plush and Velvet Peutes, with Garniture of Fringe and Passementerie. Petticoat, Cashmerienne Brocade.

Hayward, of Oxford Street.
a- The "Bayard," a Pelisse of Frise Velvet, With Louis XV. Jacket in Lyons Velvet.
b- The "Flavio." In Shot Plush, Trimmings of Feather or Fur and Moire Drapery.
c- The "Longchamps." In Biscuit Cheviot with Gold Check, Velvet "Quilles" and Natural Lynx Fur.
d- "L'Incroyable," in Bottle Green "Boucle" Cloth. Trimmed with "Agrements" in Silk Cord.

Dore, of George Street, Hanover Square.
a- The "Beatrice" Gown. Fine Check Cashmere, with Velvet Collar. The Check in a Variety of Colours.
b- The "Squire" Coat in Homespun Check with Cape. Collar of Velvet. Hat to Match.

Swan and Edgar, of Piccadilly and Regent Circus.
a- Plush Visite, Coutre Colour, Trimmed Handsome Beaded Passementerie, Spaced Chenille Drops, Edged Petites Boules en Bois, Fur Collar and Cuffs.
b- Walking Toilette in Fine Cloth, Trimmed Beaver, and Ornaments on Silk Linings.
c- Visiting or Carriage Toilette, in Faille Francaise and Brocade Velvet, Merveilleux and Plush, or Cashmere and Plush.

Muriel et Cie, 198 Regent Street.
a- Bonnet in Fawn Cloth, Crown with Beads sewn on and Little Points of Velvet forming Front, with Wing and Strings of Brown.
b- Hat in Brown Plush and Salmon Tips, or in Valvet with Two Shades of Ribbon and Shaded Tips in any Colour.
c- Hat in Brown Plush, with Salmon Tips, or in any Colour Velvet, two Shades of Ribbon in Bow and Shaded Tips.

Gask and Co, of Oxford Street.
a- The "Princess Battenberg." Rich Lyons Velvet and Faille Francaise, with Variegated Embroidery. Adjustable Train.
b- Plush Visite in Black and Seal Brown, Trimmed with Deep Chenille Fringe and the new Boxwood Pendants.
c- "The Duchesse." Visite of Lyons Velvet, Braided all over with Floral Designs, in Black and Seal Brown.

Lewis, of LIverpool.
a- New Kyrle Cloth Dolman, Trimmed Fur.

Charles Russ, of New Bond Street.
a- Jacket in Seal and Natural Beaver, with Trimming to Match.
b- Mink Visite Dolmanette, with Tail Fringe.

Chapman and Co., of Notting Hill, W.
a- Winter Mantle in Ottoman Silk Cloth, with Ruching of same Material, or could be Trimmed Fur.
b- Costume of Sicilienne. Underskirt of Cut Plush a la Bayadere, with Ruche of same at Edge.
Samuel Brothers, of Ludgate Hill.
a- The "Osborne" Mantle. In Cheviot Check, Cape Lined Silk.
b- The "Zouave" Costume, with Vest in Homespun, Smoke-pearl Buttons.

Paulig and Co., of Old Bond Street.
a- Astrakan Visite, with Fringe of same. Toque-shaped Hat to Match.
b- Sable Visite, with Tails. Sable-trimmed Cloth Hat to Match.

T. A. Brown and Sons, of Winchester.
a- Navy Blue Royal Serge Costume, Hand-braided.

Wink and Co., of Southsea.
a- Cheviot Water Proof Paletot, Trimmed Astrakan.

Alfred Manning, of Grafton Street, Dublin.
a- Walking Costume. The Corsage in Bronze real Chamois Leather. Skirt in Bronze Chuddah, side Panel of Gold Ground and Wood Beads, both Trimmed Bronze Plush.

E. Hide, of Southsea.
a- Dress in Melton Cloth, Trimmed Beaver, Velvet, or Plush. Hat to match, Trimmed Wings and Ribbon Bows.

Condition is Very Good, the spine being strengthened with Filmoplast Tape.