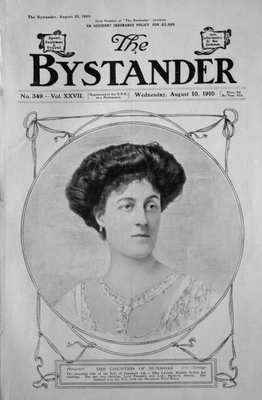 The Bystander Aug 10th 1910.

Magazine Devoted to Travel, Literature, Art, Drama, Progress, and Locomotion..

£18.50
Copy has 26 pages, 52 sides, it was taken from a Bound Volume and therefore has the Binding holes showing.

Front page shows a portrait photograph of the Countess of Dunmore.


Articles include,-
The World's Pageant.
"The Bystanders" Weekly Comments.
1- The Royal Family.
2- Queen Alexandra.
3- What's in the Wind.
4- Home Rule Revised.
5- Imperial Federation.
6- Alfonso Aloof.
7- Toddlers at Cowes.
8- A Yacht for the King.
9- The Country-House Season.
10- Sinister Suffragettes.
11- The Lytton Coterie.
12- Kingship and Criticism.
13- The Weather.
14- Revelations Russes.
15- Elinor Glyn.
16- The Late Mrs. Nicholas Lechmere.
17- After Roosevelt.
18- The Start of Staghunting.
19- Current Polo.
20- Thank You, Crippen.
21- Crime Prevention.
22- Eros in Paris.
23- The Empress Eugenie.


Cowes Attractions : Supposed and Real.
2 Half page Photographs from Cowes.


Cartoon by Camera.
Full page photograph of King Alfonso in St.James Street.


Rival Distractions at Ostend.
3 Photographs showing,-
1- The Ostenders Bathe, A Daily Morning Scene.
2- Pigeon Shooting at Ostend.
3- Lawn Tennis at Ostend.


Photograph of the Opening Meet of the Devon and Somerset Staghounds at Cloutsham. : Sidney Tucker (Huntsman) and his Pack.


Full page photograph called " A Bystander Himself - Now!."
Lord Kitchener, with Frederick Milner,Bart.,at Welbeck Abbey Agricultural Show.


Full page Photograph of Mr. Richard Whiteing, called " A Testimonial to the Literary Life." - A Famous Author's Mental and Bodily vigour after Seventy Years.


The Bystander Abroad.
1- Marienbad Still Itself.
2- Egypt's Confidence in Sir Eldon Gorst.
3- Greek Money causing Trouble in Turkey.



"La Vie Sportive."
Showing a Full page Drawing by Lewis Baumer. of an Impression at the Dieppe Races.


"The Look of Things " from a Bystander's point of view.


The Parvenu's Progress.
No 4. - His Youngest happens to mention " The Shop" in the presence of the Vicar's Wife. A Cartoon Sketch by H.M.Bateman.


Sisters of the Sabre : Lady Fencing Champions Past and Present.
1- Full page photograph of Miss Julie Johnstone, Lady Champion For 1910.
2- Full page photograph of Miss M.H.Hall, Lady Champion for 1907-1909.
These are photographs of Paintings by Mr.W.Howard Robinson.

Literary Legends and Landmarks of London. By "Jingle."
Illustrated by Norman Morrow.


Pencil Portraits of Stage Favourites.
Miss Elsie Spain : Drawn from Life by R.G.Mathews.


Paris Shows. et Autres Choses, By John N. Raphael.


"A Passing Vision."
A Full page photograph of a Painting called " Passante." by Louis Picard.
An Attractive picture in the Paris Salon des Beaux-Arts.


Double page Photograph called " A Sunrise from the Summit of Monte Generoso (5590ft.)


"HOUSEY" : The Passing of a Great School.
Recollections of Christ's Hospital. By an "Old Boy."


Majestic Monte Rosa.
A Full page photograph by Donald McLeish, Showing Monte Rosa, from the Italian Side, above Macugnaga.


The Passing of Old Japan : An Ancient Bridge that Still Survives.
A Full page photograph showing a Bridge Spanning the River Nishiki, Japan.


" The Bystander" Short Story, "Into Thy Hands, O Woman!" by Douglas Newton.


Preparing for Grand Opera.
Full page photograph of Miss Viola Tree. eldest daughter of Sir Herbert and Lady Tree.


"A South-Coast City of Trees."
Sketches by R.G.Mathews. Of Eastbourne known as the " City of Trees."


The Library.
1- British Floral Decoration.
2- The House of the Sleeping Winds.
3- "The Colonel's Past."
4- A Fair Martyr.
5- "George Meek, Bath Chair-man." (Autobiography)

"Chasse A Tir" : By Louise Abbema.
A Full page Picture of a Pretty French Sportswoman ready for the Day's Shooting.



Shooting : A Word in Season. By Leonard Willoughby.


Speedy Keels at Cowes.
Three photo's of Winners at the Royal Yacht Squadron's Regatta.
1- The Earl of Dunraven's Ketch, "Cariad."
2- Mr. A. Coats's "Clintra."
3- Mr.A.K. Stothert's "Mariska."


A Year's Inter- Varsity Sport.
Notable Varsity Athletes and their Achievements.



Half page Advert for "Odol."


Half page Advert for "The Dunlop Tyre Co Ltd."

Golf Notes and Notions. By Ernest Lehmann.

Cricket, Yachting, and Lawn Tennis.


Racing : Current Topics. By Carbine.


Motoring by Land, Sea, and Sky.


Full page Advert for "Michelin."


Frocks, Frills & Furbelows. By Mrs. Jack May.


The Garden. By H. C. Davidson.
1- Flowers and the Weather.
2- White Garden Lillies.


The Menu.
Vegetarian Dishes suitable for Hot Weather. By Emilia.