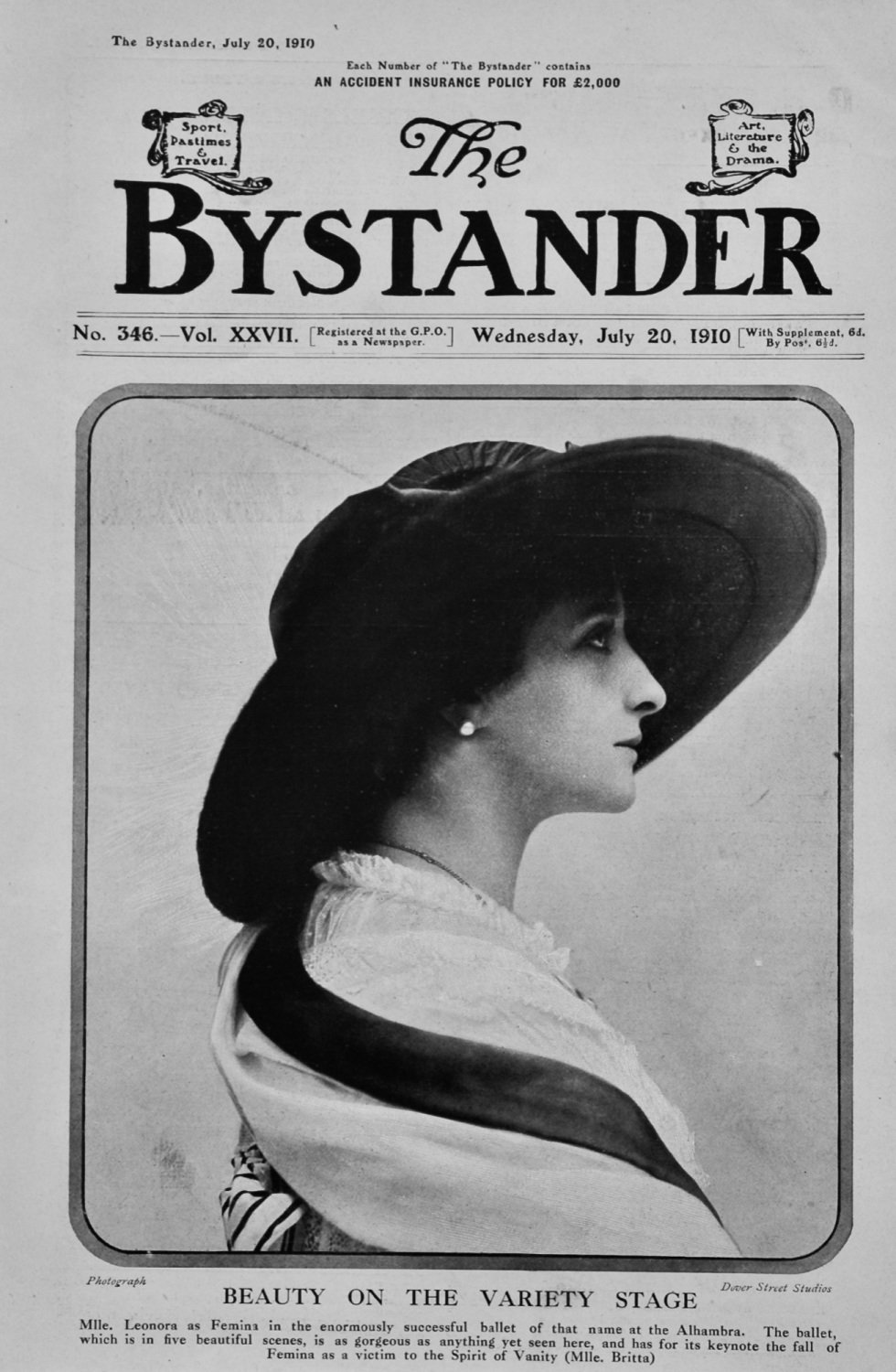 The Bystander Jul 20th 1910.

Magazine Devoted to Travel, Literature, Art, Drama, Progress, and Locomotion..

£18.50
Copy has 23 pages,46 sides, it was taken from a Bound Volume and therefore has the Binding Holes showing.

Front page shows a Portrait Photograph of Mlle. Leonora as Femina in the enormously successful Ballet of that name at the Alambra.
Page is called,- " Beauty On The Variety Stage."


The World's Pageant.
The Bystanders Weekly Comments.
1- The Aldershot Visit.
2- The Royal Yachts.
3- Vale.
4- Goodwood.
5- A Guinea a Night.
6- In Memoriam, Reno !.
7- This Week's Headaches.
8- A Servant of Speed.
9- A Flying Moral.
10- Cantabs again Champions.
11- Blues in Army Polo.
12- A Game of Patience.
13- Mr.Balfour at his Best.
14- The grafton Gallery.


Picturesque Flights at the Bournemouth Aerodrome.
Showing Three Pictures.
1- Wagner in Flight at Bournemouth : Signals and Judges Box in Foreground.
2- The Army Airship, "Beta," Arrives at Bournemouth.
3- Grahame White Flying over the Horse Patrol.



Photograph - Lemberg and Neil Gow Dead-Heat in the Eclipse.


An Elemental Hero.
Who Lived and Died at War with Leisure.
Full Page showing 5 Photographs of some Notable Incidents in the Brilliant Career of the Late Hon. C.S. Rolls.
1- Mr. Rolls as a Pioneer of Automobilism in this Country.
2- Driving a Car in the Historic 1,000 Miles Motor Trials.
3- Driving a Wolseley Racer in the 1905 Gordon Bennett Race.
4- The Last Sad Exploit. Mr.Rolls's smashed Aeroplane in the Aerodrome in
Bournemouth, photographed immediately after his Fatal accident.



" A Princess Among Fair Women."
Full page Portrait of "H.S.H. Princess Louis of Battenberg." : By Laszlo.


Paris Shows, et Autres Choses. By John N. Raphael.


"A Welcome Invader."
Full page photograph of the beautiful Actress, Miss Emmy Wehlen.


Old-World Cities of the Continent.
Showing Two half page Photographs.
1- The Oude Canal and St. Martin's Cathedral, Utrecht.
2- An Ancient Street in Thun, Bernese Oberland.


The Bystander Abroad.
1- French Journalists as Ministers.
2- M.Pichon's Position.
3- British Diplomacy in Turkey.
4- Versatile Baron Marschall.
5- An Echo of the King's Funeral.


The Parvenu's Progress.
Golf on His Own Private Links. - Full page Cartoon Sketch by H.M. Bateman.


Americans in London.
Article,- "One of them Overheard" by "Jingle" with Sketches by Norman
Morrow.



"Revived with the Kiss of the Sea."
Holiday-Makers enjoying a Health-Giving Dip at a popular Seaside Resort.
Full page Photograph.


Race Riots.- The Retaliation Policy.
Whither Away ?
Full page Photograph "The Shrimping Girl." : A Lovely actuality on Cromer Beach.
Why Rest While Away.
Double page of Photographs showing how to Escape a Holiday That Will Do You Good.
Full page Photograph, "Kathleen Mavourneen, the Grey Dawn is Breaking."
Full page Boxing Photograph.
In Loving Memory of PROFESSIONAL PUGILISM which departed this Life at Reno, Nevada July 4th 1910. "Unwept, Unhonoured, and Unsung.


Double page Photograph of the Boxing Match between Jeffries and Johnson, called - "The Fight That Failed" to bring Honour to the White Man and Credit to our Civilisation. Picture shows the First " Knock-Out" of Jeffries : Referee Intervening.


Short Story " The Husband of - ?." By Oliver Sandys.


Full page Drawing by E. Lander.
"The Wind that Blows, the Ship that Goes, And the Lass that Loves a Sailor."


An All-English Concert at the Bournemouth Centenary Fetes.
Photograph showing,-
1- Sir Edward Elgar.
2- Mr.Dan Godfrey.
3- Sir Hubert Parry.
4- Mr.Edward German.
5- Sir Alexander Mackenzie.
6- Sir Charles-Stanford.


Half page Advert for "The Orchestrelle Co.,


The Library.
1- Mr Polly.
2- A New Machiavelli.
3- A Woman in Canada.
4- The Honourable Derek.
5- The Green Book of London Society.
6- Queer Stories.



Golf Notes and Notions. By Ernest Lehmann.


A Sportsman's Causerie.- A Full page Cricket Article.


Where to Spend the Ideal Holiday.
With a Full page of Sketches by R.G. Mathews. Called "Select Broadstairs."
At which The King was Reported to have Purchesed a Residence.


Racing : Sandown and Liverpool. By Carbine.


Motoring By Land, Sea, and Sky.


The G.W.R.'S New Route to Birmingham.