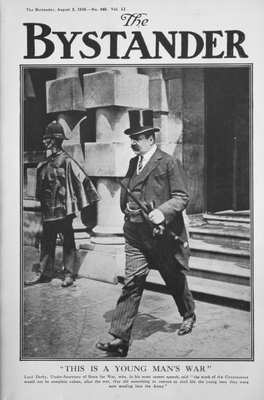 The Bystander Aug 2nd 1916.

Magazine Devoted to Travel, Literature, Art, Drama, Progress, and Locomotion..

£18.50
This copy has 23 pages, 46 sides, it was taken from a Bound Volume and therefore has the Binding holes showing.

Front page shopws a photograph of Lord Derby, Under-Secretary of State for War.


Articles include,-
Bystander War Comments. By The Editor.


Full page Cartoon Drawing called, " A Thremenjous Sthrain."
This page has a Library Stamp in the Top Margin.



Half page photograph of Soldiers in Regent's Park.


Full page showing 4 photographs called "From The Enemy's Capitals."
1- In Vienna.
2- In Berlin.
3- In Constantinople.
4- At Furstenwalde, Berlin.


Home Rule - With a Difference.
The Common Sense about Ireland. By The Bystander.


In England - Now.
A Weekly Letter From "Blanche."

A War-Worker in Ireland.
Full page Camera Portrait of Lady Massereene and Ferrard.


The Match of the Year.
Full page of photographs showing Captains and other Members of the Public Schools XI's of 1916, who will be playing at Lord's next Week.
1- F.R.Oliver. Captain of Westminster (Rest).
2- W.J.Malden, Captain of Hailey bury (Lords).
3- V.E.Bourdillon, Captain of Brighton (Rest).
4- L.H.K.Gregson, Captain of Harrow (Lords).
5- M.D.Lyon, (Rugby), Captain of Lord's School XI.
6- J.S.B.Gentry, Christ's Hospital (Rest).
7- C.L.D.Fawcus, Vice-Captain of Bradfield (Rest).
8- W.G.Lowndes, Eton (Lords).
9- M.O.Carter, Captain of Bedford (Rest).


The Newest Army.
Derby Recruits : By A Kitchener Sub.


"Augusts Three."
To Each Year Its Type. A Full page Drawing by Captain Bruce Bairnsfather.


The Bystander in Paris.
The Soldiers' Canteen, by John N.Raphael.


"Somewhere in Flanders"
Exercising Discretion, By Jack Johnson.


"Ships That Pass in the Night."
Full page Drawing by Captain Bruce Bairnsfather.


"War Wonders in London Life."
Place : A City Restaurant. Time : The Luncheon Hour. Puzzle : Find a Man !
A Double page Drawing by Douglas Mackenzie.



"A Halt by the Way."
Full page photograph showing the Indian Cavalry.


Hints to Harassed Husbands.
By "Efemera." Illustrated by Hill Clarke.


The Heroine of "Daddy-Long-Legs."
Full page photograph of Miss Renee Kelly.


London Nights Entertainments.
"We're All in it," at the Empire Theatre.
By "Jingle." Including a Full page of Sketches by Norman Morrow.



Bellicosities.


The Old Order Changeth.
The Ladies De Vere Start for the Day's Work on their Ancestral Acres.
A Full page Illustration by E.M.


The Bystander in Stockholm. Pro-Germans.


Half page Advert for " Pope & Bradley."


Half page Advert for "John Pound & Co."


Are We Losing Our Liberty ?
A Review of a Notable Book by Mr. E.S.P. Haynes.


Half page Advert for Turnbull & Asser.


Books of the Week.
A Life and some Essays.
1- The Life and Letters of Sir John Henniker Heaton.
2- Essays and Literature Studies. By Professor Stephen Leacock.
3- A Study of Samuel Butler.



Motoring and the Oilers, by Alex. J.M.Gray.

Advert for "The Palmer Tyre Co."


Advert for "Charles Packer & Co."


Fashion's Fancies. By Mrs. Jack May.


Advert for "The Hystogen Institute."


The Menu, - By Emilia.
The Jam Season.
1- Red Currant Jam.
2- Raspberry and Red Currant Jam.
3- Raspberry Drink.
4- Strawberries Preserved Whole.