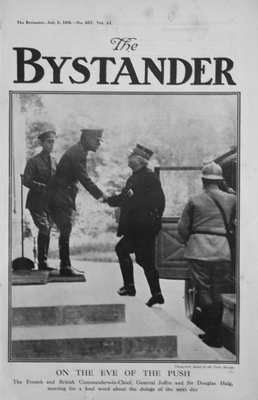 The Bystander Jul 5th 1916.

Magazine Devoted to Travel, Literature, Art, Drama, Progress, and Locomotion..

£14.50
This Issue contains 24 pages, 48 sides, it has been taken apart and Repaired with Tape in many Places, and is therefore Reduced in Price.


Front page is called "On The Eve Of The Push." showing a photograph of The French Commanders-in-Chief, General Joffre and Sir Douglas Haig, meeting for a final word about the doings of the next day.


Articles include.
The Bystander War Comments. By the Editor.
This page has a Library Stamp in the Top Margin.



"The Blatant Beast " at Bay, in the German Trenches, Jul 1916.
A Full page Drawing by E.R.


"A Beautiful Recent Bride."
A Photograph Portrait of Lady Dorothy Mills.


"In England Now !" a Weekly Letter from "Blanche."


"A Little Yet to Learn."
A Full page Drawing by A.W.M.


The Bystander's Very Select Committee.
Session the First.


Full page Photograph called - "Liveliness " On the British Front.
(Meaning that "The Bystander" Has arrived.)


Generals : By One Who Knows Them.
Some Facts about a much Misunderstood Species. By A.J.C.


"Urgent."
Full page Drawing by Captain Bruce Bairnsfather.


The Bystander in Paris, By John N. Raphael.


" The Ugliest Fashion." By Efemera, Illustrated by Hill Clarke.


Beauty and a Background.
A Full page Photograph Portrait of Miss Mabel Funstone.


In Adam's Absence, Eve Rules in Eden.
Full page Photograph of Girls who are doing the Work of Men in the Fruit Gardens and Orchards of Evesham.


No Objection Taken.
A Full page of Sketches called,- "Man's Work the Men want the Women to Want."


A Full page photograph called,- "A Houseboat - Not at Henley."
With the British Forces in Mesopotamia.
This page has a Library Stamp on the Top Margin.



London Nights Entertainments.
" Hobson's Choice " at the Apollo. By "Jingle." illustrated by Norman Morrow.


"Carry On !" - A Bystander Weekly Review.


A Full page of Cartoon Sketches called, -"1914 - War the Transformer - 1916."
But will they ever settle down again afterwards.


" Baron Lucy." - By the Bystander in Stockholm.


Full page Advert for, Waring & Gillow Ltd.


Books of the Week.
1- Driftwood Spurs, by Captain Percival Wren.
2- The Bywonner, by Mis F.E.Mills Young.
3- Felicity Crofton, by Marguerite Bryant.
4- In Corner Island, by John Oxenham.


Half page Advert for John Pound & Co Ltd.


Matters Musical. By Francis Toye.
" Boris Godounow" Revisited.


Half Page Advert for, Pope & Bradley.

Half page Advert for, Peter Robinson.

Half page Advert for, Turnbull & Asser.



A Full page Cartoon Drawing, "Special Constables Should Use Discretion."


Motoring By Alex. J. M. Gray.

Advert for a Series of Articles coming out in the Sunday Pictorial called,-
"The Four Chapters of War, by the Right Hon. Winston Churchill, M.P.


Half page Advert for, B.F.Goodrich Co Ltd.


Quarter page Advert for, Sessel Pearls.


Half page Advert for, Allen & Hanburys Ltd.


Fashion's Fancies. By Mrs. Jack May.

Half page Advert for, Bird's Custard.

Half page Advert for, Cavander's "Army Club" Cigarettes.


Full page Advert for, The Goldsmiths & Silversmiths Co Ltd.



Half page Advert for, Wright's Soap.

The Menu, by Emilia.
Some Strawberry Recipes Worth Trying.
1- Strawberries and Lemon.
2- Strawberry Shortcake.
3- Strawberry Tart.
4- Strawberry Fluff.
5- Strawberry Salad (No1).
6- Strawberry Salad with Champagne (No2).