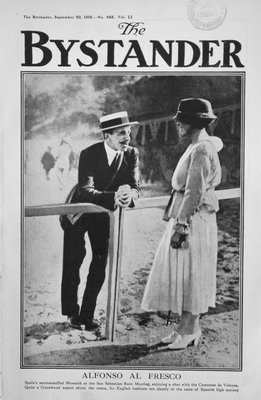 The Bystander Sept 20th 1916.

Magazine Devoted to Travel, Literature, Art, Drama, Progress, and Locomotion..

£18.50
This Copy has 30 pages, 60 sides, it was taken from a Bound Volume and therefore has the Binding holes showing.


Front page shows a photograph of Alfonso Al Fresco, Spains untrammelled Monarch at the Sebastian Race Meeting, enjoying a chat with the Comtesse de Velayes. A Library Stamp is showing on the Top Margin.


Articles include,-
"Bystander War Comments" by the Editor.


Mars on the Spot.
Full page Cartoon Drawing by E.R. of Mr Lloyd George visiting the Front.


Film Favourites of the Moment.
Full page showing pictures of the Cabinet at work
1- Mr. Bonar Law.
2- Mr. Lloyd George.
3- Viscount Grey.
4- Mr Charles Chaplin.
5- Mr.Balfour.



"The Ploughman Homeward Plods ......."
Full page showing Two Drawings,-
1- The Old Style
2- And The New.


Princess Henry of Battenberg (Princess Beatrice).
Half page photograph of a visit to her daughter, the Queen of Spain, snapshotted here while watching a game of Lawn Tennis on the courts at Santander.


Activities Various,
Full page showing Personages More or less Connected with the War.
1- F.M.Lord French opening a Lounge for Soldiers.
2- The Prime Minister Inspecting a quantity of German Ammunition.
3- Mr. Winston Churchill opening a Fete at Chelmsford.
4- Blind Heroes' Welcome their Benefactor Sir Arthur Pearson, Bart.


"In England Now." A Weekly Letter from "Blanche."


Mrs Geoffrey Howard.
A Full page Portrait Photograph of Lord Methuen's eldest daughter.



Our Clubs and the War.
With a Dissertation on the Power of the "Genius Loci." - By For'ard On"


"Curfew."
Full page Drawing by Captain Bruce Bairnsfather.


A Catch in Three Stages.
Full page showing Three interesting Snapshots of a Catch high up in the Slips made by Lieutenant A.E.R. Gilligan, of Dulwich and the Surrey 2nd XI.


Short Story. Lilian's "Lonely Soldier." By Nitchevo.


The Worst Part of the War - Getting to it.
Full page of Three Sketches showing the discomforts on Board a Troopship.
1- In The Bight. Parade - Shun.
2- The Troopship Shave.- Ay i say what Face are you Shaving.
3- Mess Orderlies. Carry On.


" In The Streets of Salonica - the War's Most Cosmopolitan City."
A Double page Drawing by J. O'dowd.
This page has a Library Stamp on the Top Margin.


The Bystander in Paris. By John N. Raphael.


" Hoch der Kaiser ..."
Full page photograph showing a British Soldiers drinking German Beer in a Captured German Camp in what is still nominally German East Africa, now being overrun by Imperial troops under the command of General Smuts.



The Eternal Snob. By Efemera, and illustrated by Hill Clarke.


"A Review of Revues." By Bystander-About-Town.
In particular regard to the Strictures of General Smith-Dorrien.


Types They Have in the Navy.
A Full page Drawing by Arthur Watts, showing "Old" And "New" Navy Types.


Books of the Week.
1- Fyodor Dostoevsky. By Mr. J. Middleton Murry.
2- Russian Literature : Ideals and Realities. By Prince Kropotkin's.
3- The Slav Soul. By Stephen Graham.
4- Russia in Arms. By Roustam Bek.
5- Aerial Russia. By Roustam Bek.



Full page Advert for John Walker & Sons, Ltd.


Bellicosities.


Full page Advert for Waring & Gillow Ltd.


London Nights Entertainment.
" The Old Country " at Wyndham's. By "Jingle." Illustrated by Norman Morrow.


Full page Advert for "The War On Land And Sea." a series by Winston Churchill about to be run in the London Magazine.


Half page Advert for "Martins Panatellas."


Full page Advert for, Maison Lyons.

An Afternoon at the Oxford, by F.R.B.


Half page Advert for, Burberry.


Half page Advert for, Peter Robinson.


Half page Advert for, Harrods.


Motor Note. By Alex.J. M.Gray.


Half page Advert for, The Sunbeam Motor Car Co, Ltd.


Full page Advert for, Dunlop Rubber Co. Ltd.


Half page Advert for, Mappin & Webb Ltd.


Half page Advert for, Horlick's Malted Milk Co.


Fashion's Fancies. By Mrs. Jack May.


Advert for, Rowe of Gosport.


The Menu. By Emilia.
1- Bananas with Rum.
2- Apple Rings (Cold).
3- Apple Meringue.
4- Baked Bananas.
5- Plum Fritters.
6- French Apple Tart.

" Sharing in a Ducal Gift."
Full page Photograph Portrait of The Duchess of Sutherland.


Short Story, "Desperation" by Bertram Munn.


"The Mad Englishman."
Full page of Sketches showing a Study of Expressions. By Bert Thomas.



A Double page of Sketches by A.K. Macdonald called "Some Kisses Klassified."
Page has a Library Stamp on the Top Margin.



Full page Drawing called "In The Toils." - The Conscript.


Theatrical Portraiture.
Full page photograph of Miss Camille Clifford. Otherwise the Hon. Mrs. Lyndhurst Bruce, who is booked for a tour of the provinces with Moss Empires.