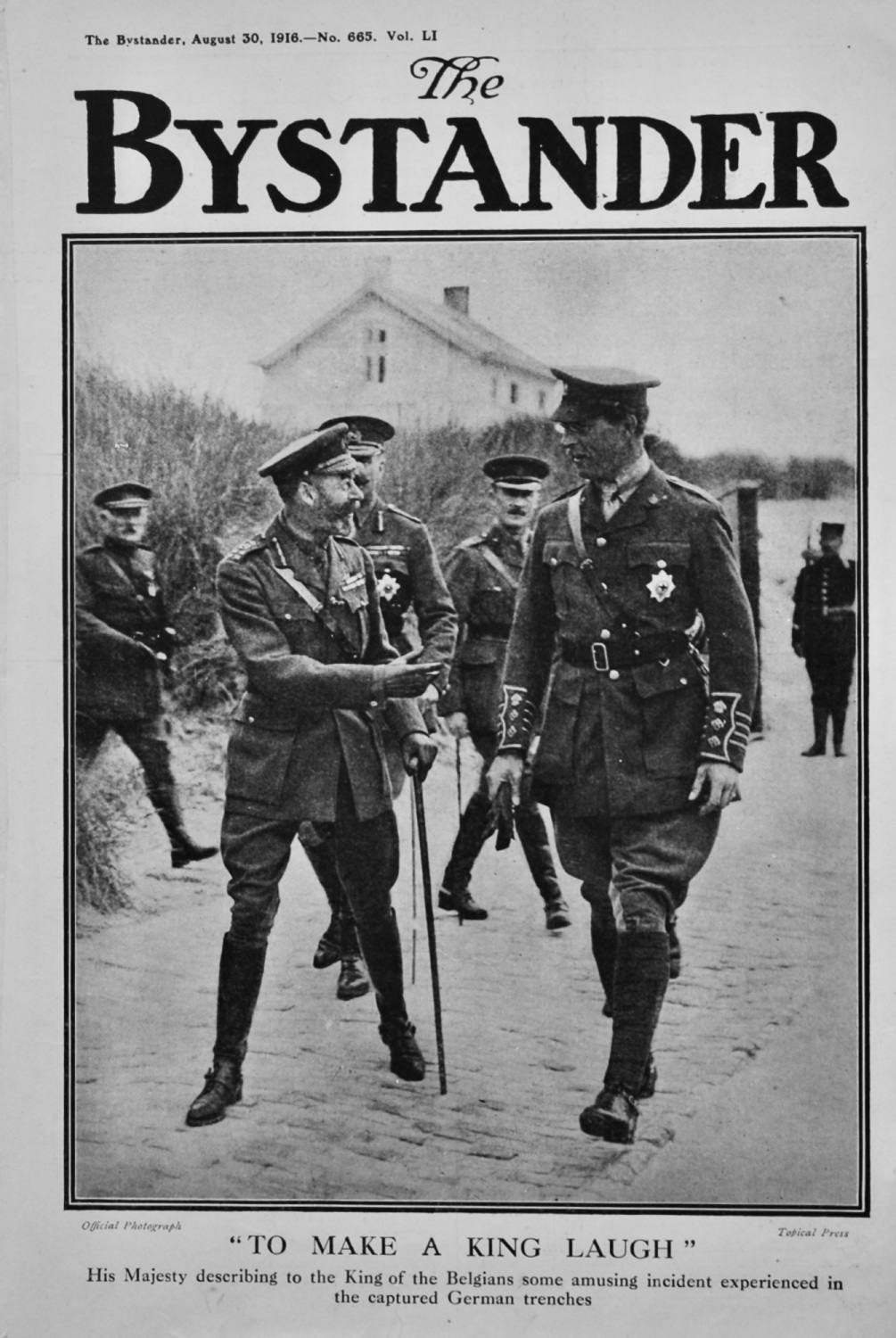 The Bystander Aug 30th 1916.

Magazine Devoted to Travel, Literature, Art, Drama, Progress, and Locomotion..

£18.50
This copy has 22 pages, 44 sides, it was taken from a Bound Volume and therefore has the Binding holes showing.


Front page is called "To Make a KIng Laugh." Showing His Majesty describing to the King of the Belgians some amusing incident experienced in the captured German Trenches.


Articles include,-
" Bystander War Comments." By the Editor.


Small photograph of The Marquis of Blandford.


"Alas ! Poor Gilbert - We Knew Him Well."
Full page photograph of Basil Hallam, erstwhile "Gilbert the Filbert," now one of the fallen heroes of the fight, in which "Filberts" have covered themselves with glory


"Going-Out and Coming-In."
Full page Cartoon Drawing by E.R.


"In England-Now !" A weekly Letter from "Blanche."


Trouville 1916.
Full page photograph of Females on the Beaches of Trouville,


The Furious Forties.
What Middle-Age is doing for the Moral of the Nation. By "Downwriter."


King George and the Ex-Dragon (Retired.)
Full page showing Three Photographs of the Royal Visit to the Captured German Trenches.
1- His Majesty Inspecting a German Dug-Out.
2- The King Passing between Two Large Mine Craters near Mametz.
3- The Smile of Victory. Showing General Joffre, President Poincare, H.M. the
King, General Froch, Sir Douglas Haig.

Bellicosities.


"A Modern Apollo."
A Full page Sketch by Edwin Morrow.


The Bystander in Copenhagen.


"The Long and the Short of it."
Full page Cartoon Drawing by Captain Bruce Bairnsfather.


"Once Somebody's Dining Room."
An Official photograph showing the ruins of a Shell-Shattered French House, the dining room of which is being utilized as a resting place for an Officer's Charger.


"Evil Communications."
A Full page photograph showing communication trenches on the Aisne Front.


The Bystander in Paris.
A Hostel for War-Stricken Artists. By John N. Raphael.
This page has a Library Stamp in the Top Margin.


"WHAT''S WRONG with our Poets and Preachers ?"
A Grave Shortage in the Spiritual Munitions of War. By For'ard On.



War-Time in the Country.
Life at the Back in Silhouette, by Douglas Mackenzie.


London Nights Entertainments.
"The London Coliseum" by "Jingle." Illustrated by Norman Morrow.


Before Assuming the "Boheemian" Crown.
Full page photograph of the Actress Miss Josi Collins driving an Ox-Cart in Cuba.



The Lighter Side of War. By "Jingle."


Matter Out of Place.
Half page Cartoon Drawing by Chris Chilcot.


Ireland to the Fore.
Half page Drawing by J.H.Dowd.


The Vision Feminine. By "Efemera." Illustrated by Hill Clarke.


Advert for Lea & Perrins.


Advert for J.C.Vickery.


Full page Advert for John Walker & Sons, Ltd.


Musical Notes. By Francis Toye.
Mr. Lloyd George and "Singing."


Half page Advert for Pope & Bradley.


The Union Jack Club Extension. By Hilaire Belloc. and A.H. Pollen.



Books of the Week.
1- The Monument. By Mr. Tilk Tattenham.
2- Forked Lightning. By Mr. Keble Howard.



Full page Advert for Jas. Schoolbred & Co., Ltd.



Advert for Studd & Millington.


Advert for Thresher & Glenny.


Motoring Affairs. By Alex. J. M. Gray.


Half page Advert for Mappin & Webb Ltd.


Half page Advert for Turnbull & Asser.

Half page Advert for Barri Maternity Gowns.


Fashion's Fancies. By Mrs. Jack May.


Advert for Elizabeth Ltd.


Advert for Charles Packer & Co.


The Menu. By Emilia.
1- Cauliflower Soup.
2- French Beans a la Creme.
3- French Bean Omelet.
4- Roes and Mushroom on Toast.
5- Beignets of Vegetable Marrow.
6- Baked Mushrooms.


Advert for Weston & Westall, Ltd.