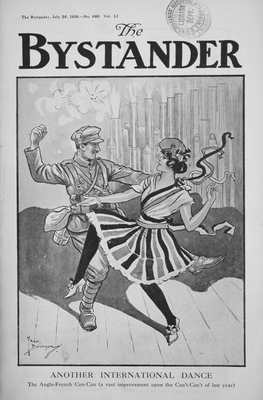 The Bystander Jul 26th 1916.

Magazine Devoted to Travel, Literature, Art, Drama, Progress, and Locomotion..

£18.50
This Copy has 25 pages, 50 sides, it was taken from a Bound Volume and therefore has the Binding holes showing.


Front page Shows a Drawing by Fred Buchanan called "Another International Dance." This page has a Library Stamp on the Top Margin.


Articles include,-
Bystander War Comments. By The Editor.

"The 'ymn of (F)'ate."
A Full page Drawing by E.R.



A small photograph of General Kashtalinski.


"UNDERGROUND."
A remarkable Full page photograph showing the method of construction of a dug-out for Officers on the Austrian Front.


When Hodge comes Marching Home. By "For'ard On."


The Man In Possession. of the Will and the Power to Achieve Victory.
A Full page photograph of Mr. Lloyd George.


Bellicosities.


"In England - Now." A weekly Letter from "Blanche."



The Latest Society Engagement.
An attractive portrait photograph of the Hon. Edith Cadogan, second daughter of the late Viscount Chelsea and Lady Meux. Her engagement to the Hon. Arthur Mills, M.P., only surviving son of Lord Hillingdon, has been recently announced.


"A Man In Sight." A small Cartoon Drawing by Stan Terry.


My Hat !
A Full page Cartoon Drawing by Captain Bruce Bairnsfather.



The Bystander in Paris.
Elias K. Schwindelbaum. By John N. Raphael.


The British Ambassador In Paris.
A full page photograph showing Lord Bertie, with General Yarde-Buller, at the inspection by President Poincare of the British Ambulance Committee's fleet of ambulance cars for the use of the French Armies.


A full page Drawing called "A Field-Day With Giles."



Hints to Travellers. By "Efemera." Illustrated by Hill Clarke.


The Queen of Diamonds.
A charming Full page photograph portrait of Miss Shirley Kellogg as she appears in "Razzle-Dazzle !" in the magnificent "Diamond Dress" designed and made by Miss Elspeth Phelps.



Monotony Made Merrier.
A full page of Cartoon Sketches by Edwin Morrow.
This page has a Library Stamp on the Top Margin.



"Musical Chairdon, " by the Bystander about Town.


Full page Advert for D. Napier & Son, Ltd.


"Somewhere In Flanders."
The Master Sleuth. By Jack Johnson.


Full page Advert for Dunlop Rubber Co., Ltd.


London Nights Entertainments.
" Look Who's Here !" at the London Opera House. By "Jingle." Illustrated by Norman Morrow.


Full page Advert for J. C. Eno., Ltd.


Half page Advert for Haig & Haig.


Revue - cum - Comedy.
A full pge of Cartoon Sketches by Norman Morrow on " Look Who's Here !" at the London Opera House.

Half page Advert for Burberrys.

Books of the Week.
1- The Big Push, by Patrick Macgill.
2- Contemptible, by Casualty.
3- From Dartmouth to the Dardanelles, by Eden Phillpott.
4- Avonmouth, by Coralie Stanton, and Heath Hosken.


The Bystander in Stockholm.


Advert for Bulloch, Lade & Co., Ltd.


Full page Advert for B.F. Goodrich Co. Ltd.


Half page Advert for Mappin & Webb.


Half page Advert for The Sunbeam Motor Car Co., Ltd.


Motor Note.
The Essence of Motoring, by Alex J.M. Gray.


Half page Advert for Wood - Milne, Ltd.


Fashion's Fancies. By Mrs. Jack May.


Full page Advert for Pears' Shaving Powder.


The Menu. By Emilia.
Various Ways of Cooking Salmon.
1- Salmon a la Maitre d'Hotel.
2- Salmon Souffle.
3- Salmon in Aspic.
4- Salmon and Cucumber Croustades.
5- Salmon Croquettes.
6- Croutes of Salmon.