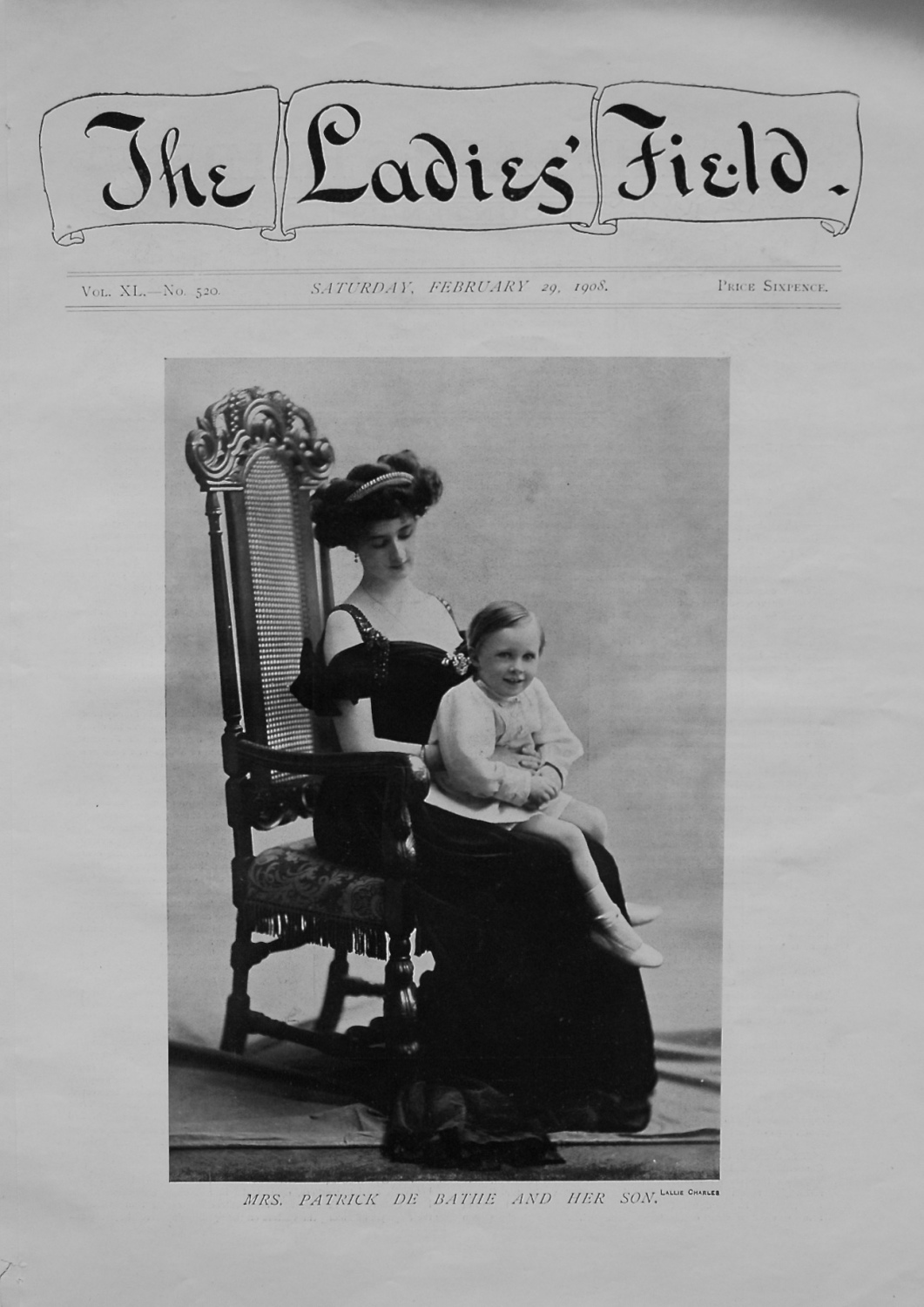 The Ladies Field. No. 520. February 29th 1908.

Edition.

£16.50
For Sale is an Issue of "The Ladies Field," No. 520. February 29th 1908. This issue contains 20 Pages 40 Sides, and has been taken from a Bound Volume. This issue has been broken down into single Pages, everything is present, and in Good Condition.

Contents.

1- Front Page shows a Photograph of "Mrs. Patrick De Bathe and Her Son."

2- Small Photograph of "H.R.H. Princess Waldemar of Denmark."

3- Small Portrait Photograph of "The Hon. Mrs. William Erskine."

4- Small Portrait photograph of "Mrs. R.C. Hawkin."

5- Photograph showing "The Duke of Leinster (Who attains his majority on March 1st) with his Brothers, Lord Desmond and Lord Edward Fitzgerald.

6- Article called "Their Majesties' First Court." (Diplomatic and Official Court which took place in the Throne Room of Buckingham Palace.) Showing the following Photographs.
a- Mrs. Lessing.
b- Mrs. Gosling.
c- Miss Charlotte Albu.
d- Miss Curtis Bennett.
e- Miss Blanche Cave.
f- Mrs. R. Latta.
g- Miss Lessing.
h- Mrs. H.P. Croft.
i- Miss B. Girvin.
j- Miss B.H. Robinson.
k- Mrs. Henry Bath.
l- Mrs. Martin Hall.
m- Mrs. Wakefield.
n- Miss Colquhoun.

3- Article called "Irish Notes." Written by Clare. Showing the following Photographs from "The Third Irish Court."
a- Miss Wallis.
b- Mrs. Cecil Finny.
c- Mrs. T.J. Brown.
d- Mrs. Patrick Brady.
e- Miss Aileen Phillips.
f- Mrs. Deverill.
g- Miss Floyd.
h- Mrs. E. J. Story.
i- Mrs. H.F. Greer.
j- Mrs. J. Leslie Weston.
k- Miss Mildred Callaghan,

4- Article called "Hunting Notes," Written by Harby. With the following Photographs.
a- Lord Rothschild's Staghounds : Meet at Ivinghoe on the Chiltern Hills.
b- Bramham Moor : Hounds Throwing Off.
c- Woodland Pytchley : Off to Cover.

5- Aticle on the "Cruft's Show." With the following Photographs.
a- Mrs. Frank's Dalmation Davos Schatzalp. : First and Challenge.
b- Mrs. A. Mayor's CH. Silent Duchess. : First and Challenge.
c- Sandringham Moscow. Property of H.M. the Queen. : Second Prize.
d- Miss A. Stevens's Sanoyede Skiko. : First Prize.
e- Mrs. Dudley Hill's Clifton Mimosa. : First and Challenge.
f- Miss. Niven's CH. Marden Dobbin. : First and Challenge.
g- Sir Claud Alexander's Ballochmyle Abbess. : First Prize in Open.
h- Mrs. Ashton Cross's Pekingese- Puck, Chu-erh, Kwai and Wongti of Alderbourne. : All First Prizes.
i- Lady Decies, winner of the Prize for the Best Decorated Pen. with Pekin Shi.

6- Article on "Carton, County Kildare." - The Seat of the Duke of Leinster. With the following Photographs.
a- Carton, Seat of the Duke of Leinster.
b- Waterfall in the Grounds.
c- The Organ-Room.
d- The Saloon.
e- The Dining-Room.
f- The Drawing-Room.
g- A General View from the River.

7- Article called "Bavardage De Femme." With a Photograph of Lady Evans - Wife of the New Solicitor-General.

8- Article called "Garden Notes." (Calceolarias).

9- Article called "Vanity's Visions." Written by Mrs. Eric Pritchard.

10- Full Page showing 5 drawings of "Seasonable Millinery at "Woodrow's."

11- Article called "Causerie De Paris." Written by Frivoline. With the following 2 Drawings.
a- Evening Cloak. : In Nattier blue velvet, lined with salmon satin ; embroideries in gold and coloured silk.
b- Dinner - Gown : In aubergine silk muslin ; embroidery in violet jet on bodice.

12- Full Page of Competitions called "The Girls' Field."

13- Full Page showing 5 drawings of "Spring Millinery at Tudor Brothers."

14- Full Page showing an Article with drawings for "Specialities for Travelling" at Drew and Sons.

15- Full Page called "Original Designs for Washing Frocks at Addley Bourne's."
(Showing 2 Drawings).

16- Full Page of "Competitions."

17- Article with the following Photographs called "Hockey Beyond The Seas."
a- Mev. Van De Poll : President of the Haarlem Ladies' Hockey Club.
b- Mrs. R. Van De Poll.
c- Mev. Breitenstein.
d- Miss J. Dolleman.

18- Article called "Yacht-Racing : Prospects for 1908." Written by Henry J. Grandison.

19- Full Page Drawing showing "A Beautiful Wrap of Crepe De Chine and a Spring Hat at Dickins and Jones's."

20- Article called "Three Art Exhibitions." Written by Hugh Stokes.

21- Article called "Sports and Pastimes."
a- Hockey Notes.
b- Golf Competitions.
c- Skating notes.

22- Article called "Scottish Notes." Written by Scotia.

23- Full Page Article with Portrait photographs of "Recent Weddings."
a- Miss F. MacHutchin. and Lieut.-Colonel P. Crozier.
b- Miss K. R. Gilbert. and Major G. Hutton.
c- Miss M. Green. and Mr. T.E. Sanders.
d- Miss K. C. Hutton. and Captain P. H. Colomb. R.N.
e- Miss F. E. Wallace. and Mr. C. B. Lockwood.

24- Article called "The Drama." Written by J.T. Green.

25- Article called "Musical Notes."

26- Article called "Saunters through the Shops." (Looking at the following Shops). Written by Tourmaline.
a- At Dickins and Jones's.
b- At D.H. Evans's.
c- At Addley Bourne's.
d- At Woodrow's.
e- At Whiteley's
f- At Egerton Burnett's.
g- At Tudor Brothers'.
h- Suggestions for Fancy Costumes.
i- At Miss Johnson's.