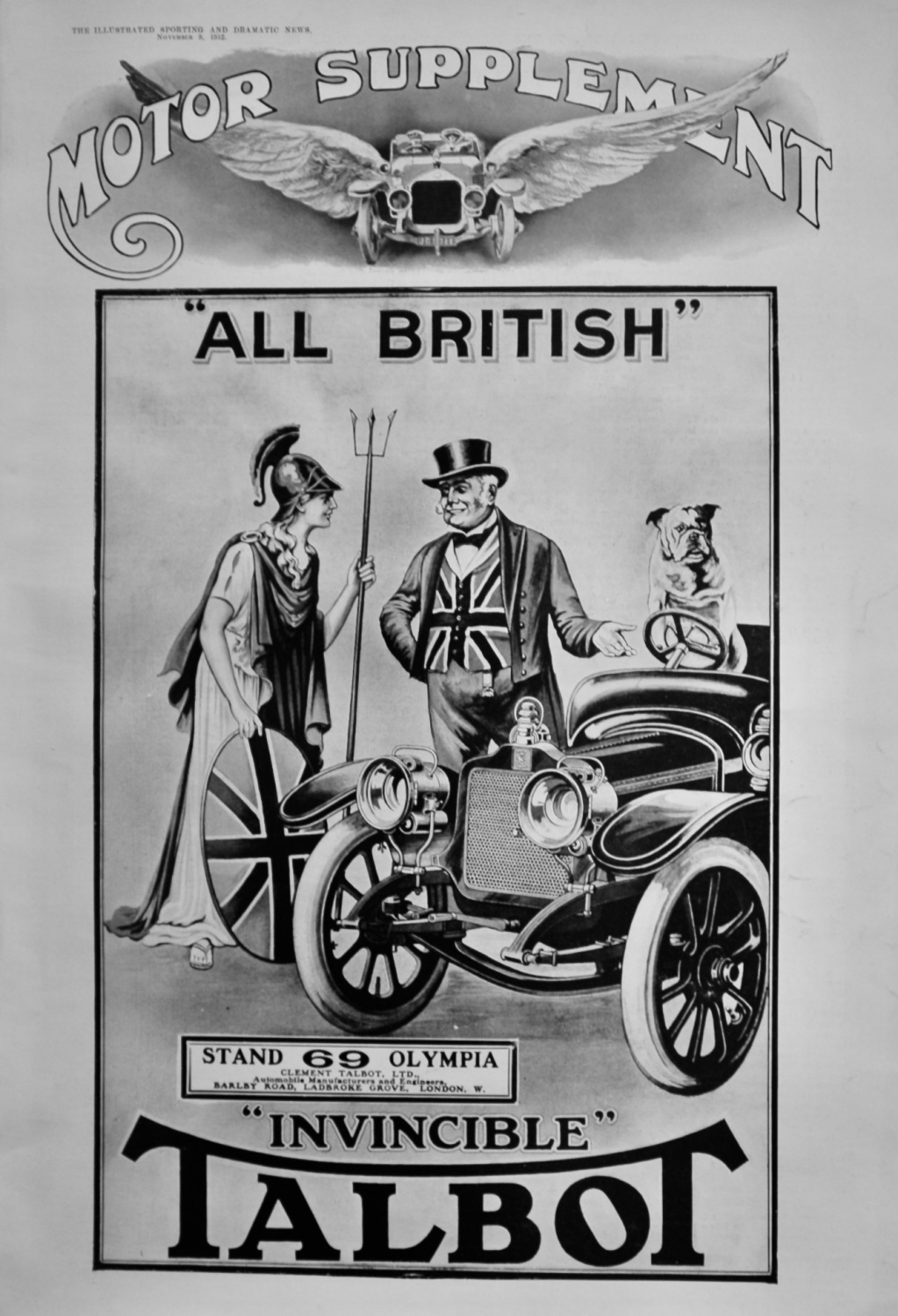 Motor Supplement. November 9th, & November 16th, 1912.. (Part 1. & Part 2.

Motor Supplement. November 9th, & November 16th, 1912. (Part 1. & Part 2.)
Motor Supplement. November 9th, & November 16th, 1912. (Part 1. & Part 2.)

Supplement.

£28.00
For Sale is a 20 Page Supplement for "The International Motor Carriage Show at Olympia," removed from "The Illustrated Sporting and Dramatic News, November 9th, 1912.
Contents.

Part 1.

Illustrations
1- Full Page of Illustrations drawn by John Bryan called "A Year in the Life of the Car."
2- Double Page Drawing by Balliol Salmon called "A Motor Tour on the Continent.- Entering Italy by an Alpine Pass.
Articles
Tendencies Revealed on the New Years's Day of Automobilism. by H. Mussac Buist.
1- The Kenote of the British Policy.
2- Broadening of Manufacturers' Ideas.
3- Sundry Mechanical Tendencies.
4- Touching Motor Constructional Tendencies.
5- Vogue of the Self-Starter.
6- Engineering Developments of Body-Work.

Some Olympia Exhibits.
1- The Austin Advencement.
2- The Biggest British Output.
3- The Worthy Armstong-Whitworth.
4- The Steady Progress of the Straker-Squire.
5- Rovers come into their Own.
6- The Arrol-Johnston Goes all Out.
7- The Practical Crossley Programme.
8- Europe's Largest Motor Manufacturer.
9- Divers Daimler Developments.
10- Bodywork as an Engineering Proposition.
11- A Distributor Valve Darracq.
12- A Colonial Type Iris Car.
13- New Three-Litre Vauxhall Model.
14- The New Type Austro-Daimler.
15- New Sheffield-Simplex Models.
16- New Big Powered Lorraine-Dietrich.
17- Worm Driven De Dion Types.
18- Latest Talbot Refinements.
19- Benz Types for all Purses.
20- The Delaunay-Belleville Self-Starter.
21- The Overwhelmingly Successful Sunbeam.
22- Two New Adler Models.
23- A Four Cylinder, Eight-piston Gobron-Brillie.
24- Progress of the overland.
25- The Triumph of the pioneer Practical Self-Starter.
26- The Pathfinder remains Outside.
27- New Panhard Models.

Photographs and Illustrations.
1- The 40 h.p. Austin "Defiance" Model.
2- The Dash of a 40 h.p. Austin "Defiance" Model, showing Dynamo, which is fitted as standard, mounted on an aluminium Bridge over the Flywheel.
3- A 10 h.p. Austin c-ft Wheelbase Chassis showing Engine Control on Steering Wheel, position of Horn, through Centre of Dash, Petrol Tank, Main and Sub-frames with Cross Members, Universal Joints, Brake Levers.
4- A view of the Wolseley Dash, showing the Self-Starting Levers in the Foreground, the Switchboard for the Dynamo Lighting Set; Speedometer and Control Lever are Clearly seen.
5- A 16-20 h.p. Wolseley Limousine Landaulette.
6- A 16-20 Wolseley Chassis.
7- A 17-25 h.p. Armstrong-Whitworth with Torpedo Body.
8- A 12 h.p. Rover fitted with standard Body and Fotments.
9- A 25-30 h.p. Armstrong-Whitworth Chassis.
10- A 12 h.p. Rover Chassis.
11- A Famous "15"- The 15 h.p. Straker-Squire has been still further improved in details, our photographs showing 1- The Sporting Model, 2- The 1913 Chassis, 3- A smart Landaulette.
12- An 11.9 h.p. Arrol-Johnston fitted with standard Body and Fitments.
13- A 17-22 h.p. Peugeot Coupe.
14- A 20 h.p. Crossley 1913 Chassis.
15- Daimlers of 1913.- The new Springing to be used.
16- The New Daimler 20 h.p. Chassis.
17- A Daimler Landaulette.
18- The B.S.A. for 1913 Fitted with Patent "All Steel" Body.
19- B.S.A. Cars.- The Method of upholstering their new Steel Bodies.
20- The New 15 h.p. Darracq fitted with the latest Valveless Engine.
21- The New 16-20 h.p. Vauxhall fitted with Ascot Two-Seater.
22- A 15 h.p. Iris Landaulette.
23- A new Alpine Model of the Austro-Daimler Co. Whose Managing Director Mr. Louis Carle, is seen at the wheel.
24- An 18 h.p. De Dion Bouton fitted with a five-seated Torpedo Body.
25- A 25 h.p. Sheffield-Simplex with a special type of Landaulette Body.
26- An 18-20 h.p. Lorraine-Dietrich fitted with an enclosed Drive Limousine.
27- A Talbot Chassis showing new Aluminium Dash, Clutch, &c.
28- A 12 h.p. Talbot 4-cylinder Engine.
29- A 12 h.p. Talbot with standard Torpedo Body and new type "One Man" Hood.
30- The latest Benz.- The new 15-25 h.p. Model Benz fitted with a Cabriolet Body.
31- A 26 h.p. Delaunay-Belleville Limousine Landaulette.
32- A 12-16 h.p. Sunbeam showing the new Tapered Bonnet and Sloping Dash.
33- A 40-50 h.p. Adler fitted with the new Morgan Torpedo.
34- A 10 h.p. Adler fitted with a Morgan Coupe.
35- A 15-20 h.p. Gobron Limousine.
36- A 20-25 h.p. Overland.
37- A 20-30 h.p. Cadillac fitted with a very simple and effective Mechanism for Self-Starting, Lighting and Ignition.
38- A 15 h.p. Panhard De Luxe Model fitted with the standard Torpedo.

Adverts.
1- Front Page Advert for Talbot "Invincible". (Full Page)
2- The Austin Motor Co. (Full Page)
3- Wolseley. (Full Page)
4- StrakerSquire. (Half Page)
5- Austro-Daimler. (Quarter Page)
6- Peugeot. (Quarter Page)
7- Dunlop. (Half Page)
8- Iris Cars. (Half Page)
9- Vauxhall. (Quarter Page)
10- The Standard Motor Co. (Quarter Page)
11- Morgan & Co. (Half Page)
12- Arrol-Johnston. (Half Page)
13- Delaunay Belleville. (Quarter Page)
14- Sheffield Simplex. (Quarter Page)
15- B.S.A. Cars. (Quarter Page)
16- Pratt's (Sixteenth Page)
17- Gobron. (Sixteenth Page)
18- De Dion Bouton. (Quarter Page)
19- The Clement Motor Co. (Quarter Page)
20- Mulliner Carriage Work. (Quarter Page)
21- Salmons & Sons. (Quarter Page)
22- 'Gabriel' Horn. Brown Brothers Ltd. (Sixteenth Page)
Part 2. November 16th, 1912. & Contains 2 Pages, 4 sides.

The Motor Show - A Recoed Success. Written by H. Mussac Buist.
a- Reflections Resulting from Closer Acquaintance.
b- Points noted in Passing.

Further Features of the Great Exhibition.
Articles.
1- A Fine Clement Display.
2- Connaught Coachwork on Notable Cars.
3- More Luxery in the Metallurgique.
4- Fiats-All About Building.
5- The Ever-Ready Star.
6- Mulliners' Coachwork Specialities.
7- Humber New Popular Powered Types.
8- A Famous Buckinghamshire Coachbuilder.
9- An All Motor Exhibit.
10- Overhead Worm-driven Standard Cars.
11- The Victorious Self-starting S.C.A.T.

Photographs and Illustrations.
1- A 25-30 h.p. Clement fitted with Double Cabriolet Body.
2- A 38-90 h.p. Metallurgique fitted with Internal Driving Limousine by Van Den Plas.
3- A 14-20 h.p. Leon Bollee fitted with a Connaught Torpedo.
4- A Handsome Double Cabriolet Designed by Mulliner of Long Acre.
5- A 14 h.p Humber Chasis.
6- A Smart Cabriolet De Luxe Built by Messrs. Salmons & Sons of Newport Pagnell, and St. Martin's Lane, W.C.
7- A 14 h.p. Aster Engine.
8- His Majesty's New Car.- A 57 h.p. Daimler, the Body being especially built by Hooper & Co., St. James's Street.

Accessories at the Motor Show.
With Particular Reference to the Tyre Section.

Articles.
1- Dunlop Progress.
2- Michelin adds to its Laurels.
3- The conquering Continental.
4- Goodrich Tyres.
5- Beldam- a Recruit to the Tyre Exhibitors.
6- New Avon Tyres.
7- The Toughened Clincher System.
8- The Liversidge Wet and Dry Non-skid.
9- Russian Tyres and Covers.
10- The Familiar C.A.V. Electric Lighting System.
11- The Rotax Leitner System.
12- The Stewart-Morris Paraffin Carburettor.
13- Brown Brothers' Varied Programme.
14- The Triple Dodson Programme.

Photographs and Illustrations.
1- A Part of the Continental Tyre Stand.
2- At the Dunlop Tyre Stand.
3- The popular figure on the Michelin Tyre Stand.
4- A Section of the Clincher Tyre Stand.
5- The Olympia Motor Show.- Some Stands of Famous Tyre Firms.
a- Beldam Tyres.
b- Prowodnik.
c- Avon.


Condition is Very Good.